Event Summary

he story of Texas is history writ large. Across the far-flung expanse of Texas, one finds stirring accounts of wide-ranging cattle drives, epic battles for freedom still honored the world over, the larger-than-life exploits of oil tycoons and notorious criminals, and a visionary father-son relationship that upended a flagging culture and recast the region onto surer footing.
Join Bill Potter and Wesley Strackbein for a four-day trek across Texas as they offer a gripping biblical overview of some of the Lone Star State's defining moments. Journey with them from Galveston to San Antonio and from Austin to Dallas, as they explore the competing worldviews found in bold relief across the Texas landscape, survey lessons of good and bad leadership, and draw conclusions on some of the most important events that have shaped Texas history.
Come to better understand that — while the story of Texas looms large — far more important than the grandiose schemes of good or evil men is the inalterable will of God who, according to His sovereign purpose, raises up and puts down men, cities, states and nations. Learn that this, in fact, is the real story of Texas.

Texas State Capitol Building 1

Galveston, Texas 2

San Antonio, Texas 3

Austin, Texas 4

Dallas, Texas 5

Menger Hotel, San Antonio 6

Menard House, Galveston 7

San Jacinto Monument 8

Texas State Museum, Austin 9
Included in This Car Tour
Admission to all venues
All guide and docent fees and gratuities throughout the tour
Electronic headset receiver for ease of hearing guides
Biblical/providential interpretation from historians Bill Potter and Wesley Strackbein
Rich fellowship with other brothers and sisters in Christ
Landmark Events' signature service throughout the tour
Not Included in This Tour
Transportation, tolls and parking fees
Accommodations
Meals — plenty of places to picnic!
Full Tour Tickets
Adults (18+)
$199
Youth (5-17):
$125
Family (4 members):
$575
Additional Family Members:
$75
Single-Day Tickets
Adults (18+)
$59
Youth (5-17):
$39
Family (4 members):
$175
Additional Family Members:
$25
If you have any questions, or if we can be of service in any way, please don't hesitate to contact us.
Tour Highlights
Day 1, July 13: Galveston / San Jacinto
They called it the "Isle of Doom."

n the year 1528, a group of haggard, weather-beaten Spaniards were driven across the Gulf of Mexico on two make-shift rafts to the shores of a foreboding island. There they were enslaved by local Indians. The marooned Spaniards were survivors of the Narvaez Expedition. Once hundreds-strong, this colonization effort sanctioned by Charles I of Spain had met almost total disaster, with death, in time, claiming all but four of their lot. And now the remnants of the group had struck the Texas coast. Their place of landfall: Galveston Island — or very close nearby.

Álvar Núñez Cabeza de Vaca 10

Pirate Jean Laffite 11a,b
Join us in Galveston for day one of our Texas Tour. Step back in time to the 16th century as we tell Cabeza de Vaca's amazing account of survival, tracing the impact of Spain's exploration of Texas and the New World. Journey forward with us to 1817, when Galveston Island became the haven and hideout for the famed pirate Jean Lafitte and his band of brigands. Walk the streets of the historic city as we discuss Galveston's strategic role in the late 19th century as Texas's leading port and point of entry, with Russians in fur coats, Scots with their pipes, and Czechs, Poles, Germans and other immigrants disembarking at her wharves to immigrate to Texas and the American West.
Learn about the 1863 Battle of Galveston when Confederate Gen. John B. Magruder defeated and expelled occupying Union troops in a daring land and naval engagement. And consider the sober, Titanic-like legacy of the 1900 Storm, as more than 6,000 Galvestonians needlessly lost their lives due to a prideful meteorologist named Isaac Cline, who refused to warn the city of impending danger when the bleak forecast of a rival weather station conflicted with his.

Galveston Skyline 12

Battle of San Jacinto 13
And that's only part of our day! Join us on Monday afternoon as we walk the field where the Battle of San Jacinto — one of history's most decisive military engagements — was fought, as Sam Houston's Texans defeated General Antonio López de Santa Anna's larger Mexican force, securing Texas's independence in 1836. Take your family to the top of the San Jacinto Monument — the world's tallest war memorial at 570 feet — for an amazing view of the battlefield below. Along the way, learn the story behind Sam Houston's rise, a poignant example of manly discipleship.
Day 2, July 14: San Antonio
It was almost the death of a vision.
On December 23, 1820, an enterprising Moses Austin rode into the dusty town of San Antonio de Béjar to petition the Spanish governor of Texas with a bold plan — to settle 300 American families in Mexico's northern province. Once gaining audience with Governor Antonio Martínez, Austin was abruptly spurned. Not only was his proposal rejected, but he was ordered to leave town immediately.
Yet God had other plans. As Austin walked dejectedly across the city square, he met an old acquaintance, a Dutchman known as Baron de Bastrop. When Bastrop heard of Austin's plight, he appealed to the governor for a reprieve. Martínez relented, and three days later, Austin was allowed to make a second pitch for his settlement scheme. Surprisingly, authorities in New Spain approved the grant. While Moses suddenly died, his 27-year-old son Stephen braved many hardships in carrying out his father's grand vision — a pivotal turning point in Texas history. Were it not for this feat, there would have been no Battle of the Alamo in 1836.

Moses Austin 14

The Alamo 15
Join us in San Antonio for Day 2 of Landmark Events' Texas Tour as we explore not only the clash of memorable characters that rose to fame at the Alamo, but the war of competing worldviews that raged long before the first cannon shot was ever fired. Learn how the failed policy of Spanish settlement in Texas over several centuries was upended by one man's vision to colonize American families there, and how the faithful discipleship of his son ensured that this vision was realized. See how the events that followed over the next decade and a half caused a decentralized, family-based culture to topple the top-down, autocratic order personified by the prideful tyrant, Santa Anna, as Travis, Bowie, Crockett and their fellow patriots drew a line in the sand for liberty.
Walk with us to Ben Milam Park, as we remember "Old Ben Milam's" stalwart legacy — that men follow courage. Hear the story of Sam and Mary Maverick, a sturdy pioneer couple whose belief in Providence and decades-long sacrifice for Texas left an indelible mark on the Lone Star State. Tour the Spanish Governor's Palace and note how the two monuments which face it outside tell a tale of two differing views of dominion. Visit the Menger Hotel where Teddy Roosevelt mustered the Rough Riders. And take time to soak in the key lessons of the 13-day stand for freedom at the Alamo as you tour the grounds of this sacred landmark.

Ben Milam Park 16

Spanish Governor's Palace 17
Day 3, July 15: Austin
The children of Texas loved him.
On December 26, 1851, the city of Austin came to a mournful halt when one of Texas's greatest leaders died. His passing at age 53 was unexpected, and eulogies from both the House and Senate chambers at the capitol poured forth in his honor. Wasting no time, the legislature inaugurated the Texas State Cemetery in Austin to bury him as the first of many great Texans to be commemorated there.'

Texas State Capitol Building 18

Texas State Cemetery 19
His name was Edward Burleson. Called the "hero of thirty battles," this brave soldier and statesman took up arms in dozens of key conflicts in Texas, but not for fame or glory. In tribute after tribute, the same theme emerged: Burleson fought to defend women and children. And he was much beloved because of it. Early Texas pioneer John Lockhart gave this fitting summary to the now-forgotten hero: "Every child knew his name in olden times, and his name was on the lips of praise wherever he went . . . ; his name meant protector to the women and children of the frontier."
Join us in Austin for Day 3 of the Road to Republic Texas Tour. Walk the floors of the Texas State History Museum, a powerful three-story tribute to many of the state's most important men and events. Hear the story of the French explorer La Salle, whose ships overshot the Mississippi River in 1685, only to land on Texas's Matagorda Bay and prompt swift retaliation by Spanish authorities from the south. See a recreation of Stephen F. Austin's jail Cell #15, where he was incarcerated in Mexico City on charges of treason. Interact with exhibits from the rough-and-tumble Texas oil industry that was launched when black gold gushed from Spindletop in 1901.

French Explorer La Salle 20

Stephen F. Austin 21
Consider how, in one bold stroke, leaders in Austin leveraged the state's greatest asset — land — to build the red-marbled capitol building at the city's center, while creating the Panhandle's XIT Ranch, which boasted 3 million acres and more than 150,000 head of cattle at its peak. Take in the legacy of Hood's Texas Brigade as you visit the monument to this storied band of Confederates. And end the day with us at the Texas State Cemetery, as you learn about famous and infamous characters from Texas's past — heroes such as Edward Burleson, Albert Sydney Johnston, and Joanna Troutman on the good side, and rascals such as Pa and Ma Ferguson, and renowned feminist sculptor Elizabet Ney, on the bad.
Day 4, July 16: Dallas
They killed the President.
On November 22, 1963, the city of Dallas was shamed when President John F. Kennedy was murdered in a crossfire of bullets in Dealey Plaza. On his last day of a whistle-stop tour of Texas, the President rode with the First Lady in an open convertible that morning, joined by Texas Governor John Connally and his wife Nellie.

President John F. Kennedy 22

Pioneer Plaza 23
Crowds cheered as they drove through downtown Dallas. The welcoming spirit was palpable. As they made the slow left turn onto Elm Street, Mrs. Connally remarked, "Mr. President, you can't say Dallas doesn't love you." Seconds later, shots rang out, striking Gov. Connally and the President. After being rushed to Parkland Hospital, President Kennedy was pronounced dead. But who was behind the assassination, and what lessons can we learn from this dark day in America?
Join us in Dallas for Day 4 of the Road to Republic Texas Tour. Learn about the founding of Dallas by John Neely Bryan and how clever promotion to the railroad magnates and beyond led this fledgling town with no historic trade route or practically-navigable waterway to become Texas's largest city by 1890. Gather with us in Pioneer Plaza to hear the ranging saga of the cattle industry in Texas as you stand next to the amazing bronze sculptures of three cowboys and forty-nine steers, erected on the once-thriving Shawnee Trail. Get an insightful overview of the Civil War's impact on Texas during our visit to the Confederate War Memorial in Pioneer Park Cemetery.

John Neely Bryan, Founder of Dallas 24

Confederate Monument, Pioneer Park Cemetery 25
Finally, come with us to Dealey Plaza as we examine the city's most striking example of history writ large — the assassination of President Kennedy in 1963 and immediate vaulting to power of his successor, Lyndon Baines Johnson. Yet, in view of this American tragedy, learn that far more important than the grandiose schemes of good or evil men is the inalterable will of God, who — according to His sovereign purpose in history — raises up and puts down men, cities, states, and nations — a fitting end to our Texas tour.
Event Speakers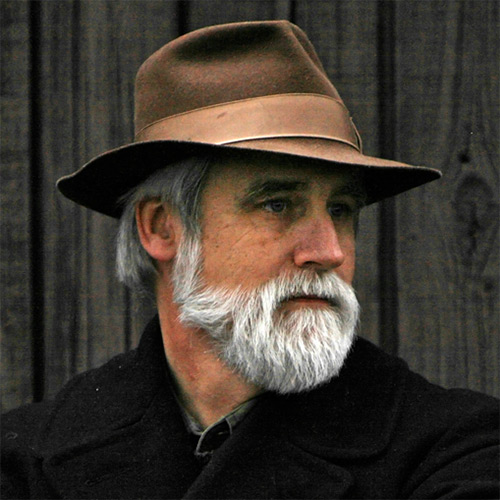 Historian Bill Potter
An experienced historian and avid bibliophile, Bill Potter combines a lifelong study of American history with an uncommon ability to captivate audiences of all ages as he traces the providential acts of God throughout the ages. Mr. Potter has taught history in high schools and colleges, has led many tours of American and European historical sites and brings to each event a wealth of experience and knowledge. An experienced researcher and writer, Mr. Potter possesses a practical knowledge of antiquarian books, documents, and artifacts and has published several short books and has penned many articles and book reviews for publication. Bill has earned a well-deserved reputation as a man gifted in communicating the story of God's providential hand in American history. As a father of eight children, he appreciates the necessity of passing on to the succeeding generations the richness of both our regional and national history. He and his wife, Leslie, reside in Georgia.
Wesley Strackbein
Wesley Strackbein has a passion to proclaim the great deeds of God in history and to pass on important lessons from the past to today's Christians. He has lectured on John Knox in St. Andrews, Scotland; the French Huguenots in Paris, France; and has given messages on Texas and American history in various locations across the U.S.
A native Texan, Wesley was home educated by parents who are among the pioneers of the modern homeschool movement. His desire is to encourage families to embrace the high calling of biblical discipleship, so that their children might advance Christ's kingdom and be mighty in the land. He is currently involved with his father in a business pursuit in the Texas oil field.
* Following the tour, Bill Potter will be speaking at the Teach Them Diligently homeschool convention in Dallas. Those desiring to attend will need to register separately through the TTD web site.
Event Schedule
Note: Schedule times are subject to change.
Day 1: Monday, July 13 (Galveston*)
Day 2: Tuesday, July 14
(San Antonio*)
9:00am
Menger Hotel — Meet in Lobby for Walking Tour of San Antonio
(204 Alamo Plaza San Antonio, TX)
Moses Austin Monument
Spanish Governor's Palace
Ben Milam Park
Main Plaza
Lunch Break
La Villita
The Alamo
Optional: I-MAX, Alamo: The Price of Freedom
Travel to Austin
78 miles ≈ 90 mins.
Day 3: Wednesday, July 15 (Austin*)
Day 4: Thursday, July 16 (Dallas*)
9:00am
Pioneer Plaza
(1428 Young St., Dallas)
10:00am
Pioneer Park Cemetery
(walking distance from Pioneer Plaza)
11:30am
Lunch Break
0.5 miles ≈ 5 mins.
1:00pm
Old Red Museum
(100 S Houston St., Dallas)
1:45pm
Dealey Plaza — JFK Assassination Site
(walking distance from Old Red Museum)
2:15pm
Tour Wrap-Up by Bill Potter and Wesley Strackbein
2:45pm
Tour of Sixth Floor Museum (Optional)
* See Tour Highlights Section for detailed descriptions of each day. Bill Potter will be speaking at the Teach Them Diligently Conference in Dallas following the tour. Separate registration required. Stop by our booth and register to win a Scottish Claymore Sword!
Accommodations
ach city boasts a variety of hotels for you to choose from with a wide range of services and rates. Similarly, each family has its own requirements and tastes in hotels. That being said, we are happy to share the information we found online and the choices we made for our staff rooms below with the understanding that, with the exception of the Menger Hotel in San Antonio, we have not seen any of them and cannot vouch for their condition.
Galveston
We booked at the Best Western Plus Seawall Inn & Suites by the Beach based on TripAdvisor reviews and location.
102 Seawall Boulevard
Galveston, Texas
Phone: 409-766-7070.
San Antonio
The Historic Menger Hotel has offered us a rate of $129 when you mention Landmark Events. Make your reservations by calling 210-223-4361 or 800-345-9285 by July 3 to secure this rate.
204 Alamo Plaza
San Antonio, TX
Austin
We booked the Best Western Plus Austin City Hotel for $112 on a AAA discount based on TripAdvisor reviews and location.
2200 S IH-35
Austin, Texas
Phone: 512-444-0561.
Dallas
We will be staying at the Sheraton Dallas under the Teach Them Diligently conference rate. The traditional room rate is $129 for 1 King or 2 Queens (discounted from $199). You're welcome to book under their block even if you are not attending the conference. Reserve your discounted room here or by calling 888-627-8191 and mention Teach Them Diligently. This rate is valid 7/15/15 to 7/18/15 and must be booked by 6/29/15.