oin us in the land where minstrels set the heather afire with their rhetoric, barristers led farmers into combat and mothers used battle songs as lullabies. Journey with Landmark Events this June as we immerse ourselves in the history and culture of a nation legendary for its poetic passions and enduring love of heritage. Ireland, endowed with a staunch framework of familial loyalty, has undergone centuries of oppression and revisionism: only to counter it repeatedly by some of the most remarkable cultural rebirths Europe has ever seen. Their seemingly unflagging optimism in their own futures and destinies has touched every country where their diaspora has banished them, causing George Washington to refer to them as "that ever enduring land." Ireland's heroes and villains are as fantastical and pertinent as could be wished for; St. Patrick, Columba, James Ussher, Daniel O'Connell, Thomas Meagher and Michael Collins just to name a few. The history of their struggles is deeply personal and their legacy of immortalizing the past, searing in its dramatic unfolding over the last century.

Dublin Castle

Rock of Cashel

GPO (General Post Office)

Battle of the Boyne

The Book of Kells

Kilmainham Gaol

Trinity College

Dun Aonghasa, Iron Age fortress

Breathtaking scenery and peaceful solitude

Tempull Breccain

Famous Aran Sweater Market

Giant's Causeway
You are invited to tour the Emerald Isle with a small group of fellow Christians exploring the vibrant scenery and tumultuous history of this unique land. You will hike to forts built a thousand years before Christ's birth, explore the remarkable cathedrals built in St. Patrick's day, tour the Titanic's last port of call and traverse the streets where Irish independence was won just 100 years ago. The Irish are a resilient people that are familiar with suffering, yet they have always kept a sense of joy and optimism amidst very trying circumstances throughout their history. You'll be encouraged and amazed as we reveal the remarkable ways God has used these fiery-spirited people to change the world.
What to Expect
We believe in freedom, so this is not your typical "follow the flag" tour. You're making a substantial investment in this tour and the last thing we want to do is hold you captive to a group for 11 days, so we have built in a lot of liberty for each guest. We will do most of the guiding on the coach as we travel so when we arrive at a venue you will get a brief site-specific history, an option for a "house tour" followed by free time to explore areas of personal interest and perhaps do some shopping. Want to skip a venue? Feel free, we will let you know how to reunite with the group when you are ready. You wont miss a word with our wireless headsets that allow you to peruse the area while we tell you all about it.
Think of it as a informational and experiential buffet. We will do our best to offer loads of content, including evening walks and after dinner discussions, and you choose your favorites, as little or as much as you like.
When it comes to most provided meals, we will designate restaurant for lunch or dinner and let you go in when you want, with who you want, and order what you want. You take care of any alcohol, we take care of the rest. Freedom, it's a good thing.
Tour Highlights
t really is the Emerald Isle, overwhelmed with shades of green, beautiful to behold, fascinating to visit, and imbued with a history of Celtic tribalism and warfare, full of tragedy, struggle and hardship mixed with irresistible humor, good cheer, superstition, and trust in God. We will travel from the "stone age" of Druidic paganism, through the conversion to Christ of most of the island, to the long and bloody attempts to maintain independence while resisting foreign control. We will clamber over ancient castles, abbeys and churches and visit quaint historic towns that connect the past and present in music, dance, and cuisine. Our tour will include sites vital to the story of the RMS Titanic, battlefields, museums, and living history, as well as ample free time to shop and explore your Irish roots, helping personalize the experience even more. "Unforgettable" hardly describes what's ahead with Landmark Events.

(June 20-22, 30)
Founded as a Viking settlement, Dublin emerged as Ireland's principal city following the Norman invasion in the 1200s. The city expanded rapidly from the 17th century and was briefly the second largest city in the British Empire before the Acts of Union in 1800. Following the partition of Ireland in 1922, Dublin became the capital of the Irish Free State, later renamed Ireland.
We will make our headquarters in the heart of Dublin, just steps from the grand Christ Church Cathedral, Dublin Castle, Trinity College and a host of great restaurants and shops. Historic Dublin is at your doorstep, just waiting to be explored!
Riverdance
Riverdance is the iconic live theatrical show featuring wonderful lively traditional Irish music and energetic Irish dance. Opening in 1995, the show has visited over 450 venues worldwide and been seen by over 25 million people, making it one of the most successful dance productions in the world. Set in the historic Gaeity Theater, it's going to be a treat!
Dublin Castle
Since its foundation in 1204, Dublin Castle has been at the heart of the history of the city. Today, spanning an area of over 44,000 square meters (11 acres), the site contains 2 museums, 2 cafés, an international conference centers, 2 gardens, government buildings, and the State Apartments which are the most important state rooms in the country.
Kilmainham Gaol
From its opening in 1796 for 128 years, it has been — barring the notable exceptions of Daniel O'Connell and Michael Collins — the site of incarceration of every significant Irish nationalist leader of both the constitutional and physical force traditions. The majority of the Irish leaders in the rebellions of 1798, 1803, 1848, 1867 and 1916 were imprisoned there.
GPO (General Post Office)
During the Easter Rising of 1916, the GPO served as the headquarters of the uprising's leaders, with pock marks from bullets still adorning it's exterior columns. The building was destroyed by fire in the course of the rebellion and not repaired until the Irish Free State government took up the task some years later.
The Book of Kells
The Old Library at Trinity College was constructed in 1712 and now houses The Book of Kells, along with other ancient texts. In the 18th century, the college received the Brian Boru harp, one of the three surviving medieval Gaelic harps, and a national symbol of Ireland, which is now housed in the Library.
Collins Barracks
Collins Barracks is named after Michael Collins, the first Commander-in-Chief of the Irish Free State Army. A hero of the 1920-21 War of Independence, Collins was assassinated in 1922, during the Irish Civil War, aged just 31. Today, the building house the National Museum of Ireland – Decorative Arts and History.
Dublinia
A fascinating museum of ancient Dublin containing a multitude of interesting displays, lots of videos, pictures, and model representations of life in Dublin during the Viking and Medieval times.
Rock of Cashel
The Rock of Cashel was the traditional seat of the kings of Munster for several hundred years prior to the Norman invasion. In 1101, the King of Munster, Muirchertach Ua Briain, donated his fortress on the Rock to the Church. The picturesque complex has one of the most remarkable collections of Celtic art and medieval architecture to be found anywhere in Europe.

(June 23)
This is the only remaining completely walled city in Ireland and one of the finest examples of Walled Cities in Europe. The Walls were built during the period 1613-1618 by the honorable, the Irish Society as defenses for early seventeenth century settlers from England and Scotland. The city claims Europe's largest collection of cannon whose origins are known precisely. Many of them thundered in anger over the two seventeenth century sieges.
Battle of the Boyne
In 1690, James II of England fled to Ireland to fight for his throne. The new king, William of Orange, obliged him by invading Ireland with 36,000 . The most important battle occurred along the Boyne River, where William led his men to victory, and James fled to France, giving up the throne of England for good.
Giant's Causeway
The Giant's Causeway is an area of about 40,000 interlocking basalt columns, the result of an ancient volcanic fissure eruption. Flanked by the wild North Atlantic Ocean and a landscape of dramatic cliffs, for centuries the Giant's Causeway has inspired artists, stirred scientific debate and captured the imagination of all who see it.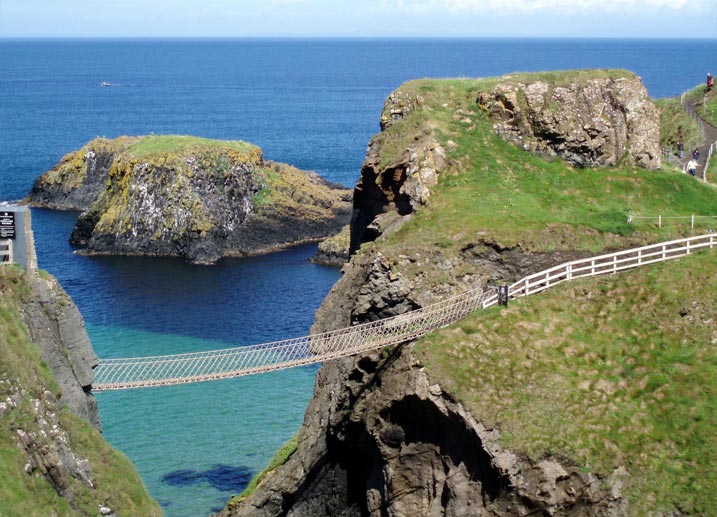 Carrick-a-Rede Rope Bridge
Carrick a Rede Rope Bridge is a rope bridge close to Ballintoy in Northern Ireland. It is an amazing and terrifying experience. Cross the 20 meter suspension bridge over a gorge onto a small island as salmon fishermen have been doing for over 350 years…
Derry Walls
The fortified town of Derry was besieged as in 1689 was the first major event in the Williamite War in Ireland. The siege was preceded by a first attempt against the town by Jacobite forces on 7 December 1688 that was foiled when 13 apprentices shut the gates. You will walk those very walls!

(June 24-25)
Galway might be Ireland's most charming city: compact, walkable and filled to the brim with independent shops and restaurants. Called "The City of the Tribes", Galway was originally founded as a fishing village where the Corrib River flows into beautiful Galway Bay. A charter was granted in 1396 by Richard II which transferred governing powers to 14 merchant families, known locally as the 14 tribes of Galway, and the names of these fourteen tribes are now represented on roundabouts in Galway City.
Cliffs of Moher
These iconic sea cliffs are synonymous with the Wilde Atlantic Way, running for about 9 miles along the Irish Coast. Towering from 390 feet to over 700 feet above the Atlantic Ocean, we will cruise along their base on the way to Inis Mór.
Galway Cathedral
The Cathedral of Our Lady Assumed into Heaven and Saint Nicholas, Galway, was dedicated on August 15, 1965, and as such is the youngest of Europe's great stone cathedrals. Created in the hopes of being 'solid, dignified and worthy of Galway', the stunning craftsmanship and stunning architecture certainly fulfills this brief.
Castle Lynch
A striking example of a medieval fortified house, the castle is four storeys high with embellished carved windows, gargoyles and ornamental mouldings and cornices. Built by the powerful Lynch family as a protection from raids, parts of the limestone building may date back to the 14th century but the bulk of it was built in the 16th century.
Trad on Prom
The best traditional Irish Dance and Music show in Galway City. Brimming with all-star singers, dancers and musicians from Ireland's top shows, Trad on Prom is the full Irish experience! You can meet the cast afterwards, who are only too happy to mingle with the audience and generously chat or have their photos taken with you.
.

(June 26-27)
Inis Mór
Inis Mór is the largest of the Aran Islands in Galway Bay. The island is famous for its strong Irish culture, loyalty to the Irish language, and a wealth of pre-Christian and Christian ancient sites including Dún Aengus, described as "the most magnificent barbaric monument in Europe"..
Dún Aonghasa
A 14-acre site on Inis Mor, this Iron Age fort consists of three terraced walls surrounding an inner enclosure containing a platform on the edge of a three-hundred-foot-high cliff. Recent excavations indicate that people had been living at the hill top from c. 1500 B.C. with the first walls and dwelling houses being erected c. 1100 B.C.!
Aran Sweater Market
Stripped of the symbols of their heritage by English persecution, many Clans adopted the Aran Sweater as a secret Clan symbol. Knitted in a unique way to your clan, these patterns were safeguarded within families and passed down from generation to generation. It's a great story and an even better shopping stop!
Free Time to Explore
You will have plenty of time to explore this unique island and sample a little of all it has to offer. Circle the island on a bicycle, go on a trap & horse ride or simply relax by the seaside and take in the wonder of where you are. The island atmosphere really changes when the last ferry takes everyone back to the mainland and a peaceful calm settles pervades.

(June 28-29)
Cobh, or Queenstown as it was once called, was the port where almost 3 million people from every corner of Ireland emigrated and scattered throughout the globe, including Annie Moore, the first immigrant ever to be processed in Ellis Island. Today Cobh is a charming seaside town filled with shops, cafes and historic treasures.
Cobh Heritage Centre
Over three million Irish people emigrated from this port. Tales of the early emigrants to Virginia, the Carolinas and Canada, the forgotten Irish who endured forced labour in the West Indies during and after Cromwellian times, to the sinking of the Titanic and the Lusitania, are inventively displayed in a variety of modern, tasteful and artistic ways. Learn about Irish Emigration story, trace your ancestors, hear about the ill-fated Titanic and the Lusitania, and immerse yourself in Irish naval and military history at Cobh Heritage Centre.
Cobh Museum
Cobh Museum is situated overlooking Cork Harbour. The exhibitions reflect the cultural, social and maritime history of Cobh and the Great Island. Formerly known as Queenstown, Cobh has a long maritime history and is known throughout the world for its association with emigration and was the last port of call for the RMS Titanic. The Museum holds the last written record for the RMS Titanic in the Pilot's Log book among its many fascinating artifacts.
Lusitania Memorial
In 1915, Cunard steamship RMS Lusitania was torpedoed by a German submarine off the Old Head of Kinsale about 20 miles from Queenstown. The people of the town rose to the huge challenge of rescue, comforting the shocked and injured survivors, and identifying, repatriating and burying the dead.
Titanic Experience
Titanic Experience Cobh is located in Casement Square in the heart of Cobh Town. It is housed in the original White Star Line Ticket Office, a building steeped in history dating back to the early 19th century and the departure point for many thousands of White Star Line passengers. We will take an interactive tour that tells the story of the 123 passengers who came to the White Star Line Ticket Office on Thursday April 11, 1912 as well as browse exhibits full of original artifacts from Titanic.
Included in This Tour
11 nights lodging in 3- and 4-star hotels in the historic districts
11 Breakfasts / 5 lunches / 4 dinners
Travel on dedicated luxury coach throughout tour
All entrance and guides fees, ground transportation, and donations.
Tickets to "Riverdance" at the beautiful Gaiety Theater in Dublin!
VIP Tickets to "Trad on Prom" in Galway!
Distinctly Christian interpretation from Bill Potter and local experts
Rich fellowship and new friends!
Wireless headsets for ease of hearing
Freedom to explore on your own
Signature Landmark Events service
Ticket Information
Save 3.5% credit card fees by registering by phone at (210) 885-9351 and then sending in a check.

Single
(private room)
$4,999
Double
(2 ppl per room)
$3,999
Triple
(3 ppl per room)
$3,699
"Our family has travelled extensively and this was our first faith-based tour. There is something patently different about traveling with a group of believers and learning about the sights from a Christian perspective. It was an extraordinary trip that deepened our faith and bonded our family." —Kerry N.
"They've done all the work for you! Just show up and enjoy each of the amazing venues and soak in the Biblical interpretations and rich fellowship!" —Jessica K.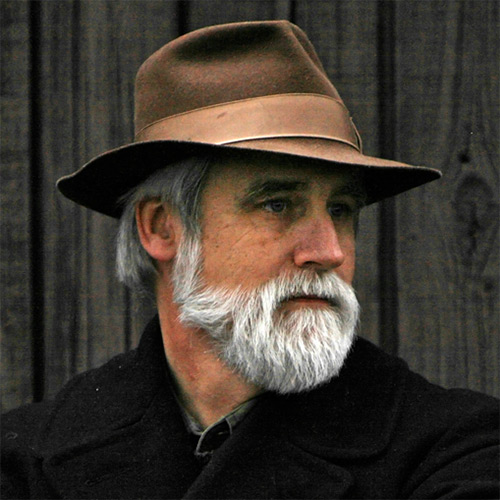 Historian Bill Potter
Historian Bill Potter combines a lifelong study of history with an uncommon ability to captivate audiences of all ages as he traces the providential acts of God throughout the ages. Leading tours of American and European historical sites, he has earned a well-deserved reputation as a gifted communicator, bringing to each event a wealth of experience and knowledge. A seasoned researcher and writer, Mr. Potter possesses a practical knowledge of antiquarian books, documents, and artifacts and has published numerous short books, as well as many articles and book reviews. He and his wife, Leslie, reside in Virginia.

(June 20-22, 30)
Trinity City Hotel
Located in the heart of Dublin, experience exceptional four-star luxury at Trinity City Hotel. Close to all of the city's top tourist attractions, main shopping areas and the best in food and drink that Dublin has to offer.

(June 23)
Shipquay Hotel
Overlooking the City Walls and the famous Guildhall, Shipquay Hotel is a luxurious and intimate boutique hotel in the heart of Derry. The origins of the building date back to 1895 when it was originally constructed for the Provincial Bank of Ireland.

(June 24-25)
Harbour Hotel
Located in the center of Galway, just outside the lively Latin Quarter, the Harbour Hotel in the heart of the city. When you head outside, everything our super city has to offer is just a stone's throw away.

(June 26-27)
Pier House Aran
Overlooking Kilronan Harbour on Inis Mór Island in County Galway, Pier House offers Bed and Breakfast in a peaceful location off Ireland's west coast. We are ideally located for you to begin exploring the Aran Islands.

(June 28-29)
Waters Edge Hotel
Situated on the waterfront, we really have got "rooms with a view". The Hotel commands breath-taking views, spacious, comfortable accommodation and Bistro style food that cannot be beaten.