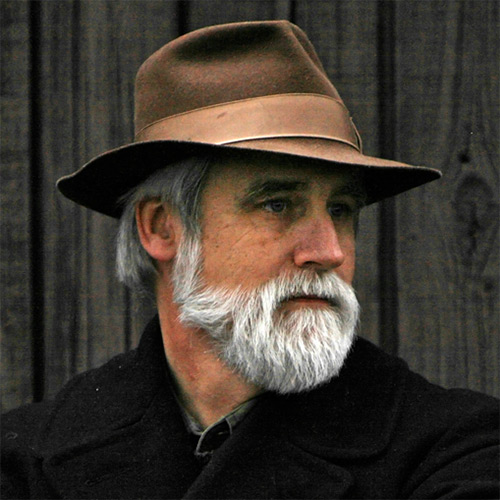 Bill Potter
An experienced historian and avid bibliophile, Bill Potter combines a lifelong study of American history with an uncommon ability to captivate audiences of all ages as he traces the providential acts of God throughout the ages. Mr. Potter has taught history in high schools and colleges, has led many tours of American and European historical sites and brings to each event a wealth of experience and knowledge. An experienced researcher and writer, Mr. Potter possesses a practical knowledge of antiquarian books, documents, and artifacts and has published several short books and has penned many articles and book reviews for publication. Bill has earned a well-deserved reputation as a man gifted in communicating the story of God's providential hand in American history. As a father of eight children, he appreciates the necessity of passing on to the succeeding generations the richness of both our regional and national history. He and his wife, Leslie, reside in Virginia.
Col. John Eidsmoe
John Eidsmoe is a retired Air Force Lt. Colonel and Alabama State Defense Force Colonel, and a graduate of the Air Command & Staff College and the Air War College. He is Professor of Law at the Oak Brook College of Law and Government Policy and, in his various teaching assignments, his students have given him the Outstanding Professor Award or Professor of the Year Award five times. He has served as Senior Staff Attorney with the Alabama Supreme Court and is currently Legal Counsel for the Foundation for Moral Law. Eidsmoe also serves on the boards of Lutherans for Life, The Plymouth Rock Foundation, and the Gospel Martial Arts Union, and is a constitutional attorney who has defended homeschools, Christian schools, the right of students to study the Bible in public schools, and the right to display the Ten Commandments in the public arena. He has authored numerous books, including Historical & Theological Foundations of Law, Christianity & the Constitution, God & Caesar, and Columbus & Cortez, and has produced a variety of audio and video lecture albums including The Institute on the Constitution and Here I Stand: A Biblical Worldview for a New Millennium. He holds seven academic degrees in law, theology, history, and political science. He and his wife, Marlene, have been married since 1970, have three children, and live in rural Pike Road, Alabama.
Colin Gunn
Native Scotsman Colin Gunn is a sincere, orthodox Christian who worshipped for many years in a local Scottish church that descended directly from the Covenanters of the 17th century (it still requires members to sign "The Solemn League and Covenant"!) Colin has distinguished himself as an award-winning Christian filmmaker. He co-directed and wrote and produced the documentaries IndoctriNation: Public Schools and the Decline of Christianity in America and Captivated: Finding Freedom in a Media Captive Culture. His latest film is a feature-length documentary on American healthcare called Wait Till It's Free!. His previous films include Shaky Town and The Monstrous Regiment of Women (the title of which was taken from one of John Knox's most famous treatises).
Bernie Beall
Bernie and his wife Linda founded Great Commission Families in 2006 as a local family ministry helping families to "take steps of faith toward greater involvement in the Great Commission". Prior to Great Commission Families, they were on staff with Campus Crusade for Christ for 23 years, including 8 years as the D.C. Metro Director, then on the National Team for CCC's International Student Ministries. Today, a big part of their ministry is creating family-friendly evangelistic outings by giving Christian heritage tours in Washington, D.C. showing the evidence of our Christian heritage on display throughout our nation's capital and surrounding region, including at the local major Civil War battlefields. Bernie and Linda met at Penn State University in 1979 where Bernie graduated in Agriculture and Linda in Nursing. Today, Bernie is an ordained minister with the Evangelical Church Alliance. Bernie and Linda have four grown children and live in Maryland not far from their seven grandchildren, and near the family dairy farm where Bernie grew up.
Curtis Bowers
Curtis Bowers is a Christian statesman, husband, father, filmmaker, speaker, and businessman. He served as a state representative in the Idaho legislature, started and operated three award-winning fondue restaurants, and produced the award-winning film, Agenda: Grinding America Down. Curtis and his wife of 26 years, Lauren, home educate their 9 children and operate the independent film company Copybook Heading Productions. The Bowers sing at events across the country and recently released their new film, AGENDA 2: Masters of Deceit.
Dr. Paul Jehle
An ardent student of history, Dr. Paul Jehle serves as the Executive Director of the Plymouth Rock Foundation, an organization dedicated to the remembrance of the Pilgrims and the Christian heritage that was forged in the wake of their influential devotion to God and the Bible. Paul has travelled across the nation and to a number of foreign countries, hosting seminars and teaching on America's Pilgrim and Patriot heritage. He holds a Bachelor of Arts degree in Mathematics from Barrington College, and a Doctorate degree in Education from Whitefield Theological Seminary. Paul began giving walking tours of Plymouth and its monuments in 1978, and in 2004 he published Plymouth in the Words of Her Founders for visitors to the Plymouth area, allowing the Pilgrims to interpret the monuments erected in their honor through their own words. Dr. Jehle also serves on Plymouth's 2020 Commission in preparation for the 400th anniversary of the arrival of the Pilgrims. Paul and his wife, Charlene, have two grown children.
Dr. Marshall Foster
Dr. Marshall Foster is the founder and president of the Mayflower Institute, a non-profit educational foundation. Marshall and the Institute have been dedicated, since 1976, to teaching and reclaiming America's godly heritage. Best-selling author and keynote speaker, Dr. Foster has effectively and dynamically communicated biblical truths and principles of our founder's miraculous success story. His experience includes being the founder of the Los Angeles Rams Chaplains Program, the founder of Campus Crusade at the University of Southern California, keynote speaker and featured radio and television guest on programs such as Focus on the Family, CBN's 700 Club, and the Trinity Broadcasting Network. Across America, hundreds of thousands of lives have been impacted by Marshall's seminars, educational materials and tours, media appearances, and most significantly by his contagious love for Jesus Christ. For nearly four decades, his passion to unite this land as "One Nation Under God" has inspired young and old alike. Dr. Foster's biblical and historical wisdom offers a new generation hope for a lasting spiritual and cultural revival.
Dan Ford
Dan Ford has been an avid collector of artifacts and historic documents for nearly two decades. As a researcher and historian, he has compiled an archive of original source materials by which to verify contemporary accounts of the lives of our forebearers. These artifacts range from more ancient cuneiform tablets, scrolls, and pottery, to less ancient pamphlets, maps, broadsheets, books, private letters, and public documents. He has been a group teacher and conference speaker on the subjects of Christian English and American history for the past ten years. His single goal in each presentation has been to explain and document, by way of facts and artifacts, the abundant evidence of our godly cultural inheritance. With twenty-five years in the field of graphic illustration, he is well-known for his illustrated work In the Name of God, Amen. Dan and his wife Theresa reside in St. Louis, Missouri.
Richard Holland
Born and raised in Boston, Richard Holland founded CTB Tours in 1994 after performing tours locally and abroad for over 20 years. In addition to earning a Masters in Education from Gordon-Conwell Theological Seminary, he is a perpetual student of colonial and recent history of Boston. His depth of knowledge and passion for providential history translate into tours that are entertaining and educational, making history come alive.
Wesley Strackbein
Wesley Strackbein has a passion to proclaim the great deeds of God in history and to pass on important lessons from the past to today's Christians. He has lectured on John Knox in St. Andrews, Scotland; the French Huguenots in Paris, France; and has given messages on American history in various locations across the U.S. Wesley was home educated by parents who are among the pioneers of the modern homeschool movement. His desire is to encourage families to embrace the high calling of biblical discipleship, so that their children might advance Christ's kingdom and be mighty in the land. He is currently involved with his father in a business pursuit in the Texas oil field.
Samuel Turley
Sam Turley has been an ardent student of history — especially Southern and Civil War history — for over ten years. His extensive study has instilled in him a great respect for our nation's forefathers. This, combined with his time serving as a historical interpreter at The Battle of Franklin Trust (an organization dedicated to the memory of the soldiers who fought and died at the Battle of Franklin), has provided him with unique opportunities to speak to a variety of audiences on subjects related to 19th century history.